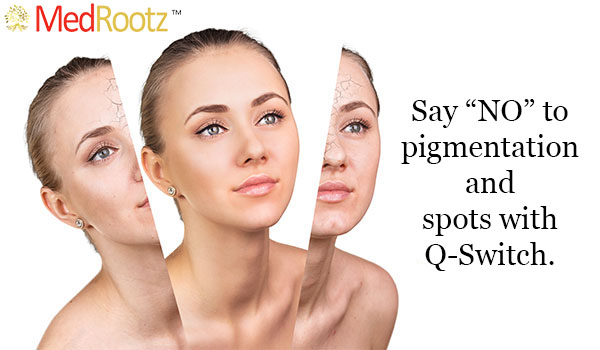 A radiant and glowing skin is the dream of everyone, but people either think of the treatments as a hassle or are scared to go through treatments like laser treatments. The use of lasers on the skin can give goosebumps to anyone if he/she has never gone through it in their life. But now it has become a popular solution in the Dermatology department because of the non-invasive nature of the lasers.
Laser treatments are effective as well as painless, that's why most people have started to reconsider their decisions and are becoming more eager to choose this method. Acne is a common problem for most people and even if it goes away with time, big or small, they think that it can affect their natural skin tone. There are different kinds of laser treatment but Q-switch is the most recent technology in the world of dermatology which has been thoroughly tested to make sure that it is safe for the Indian skin tone.
Q-switch skin laser treatment works by creating an invisible beam of light that specifically and precisely targets The brown pigment or melanin present in the dark spots without influencing any surrounding portion. The laser is absorbed by the pigments and gets fragmented under the skin's tissues. The fragmentation of unwanted pigments gives the skin an even tone and the skin looks plumper and smoother. Q-switch laser treatment is very effective in removing unwanted spots, and you can return to your daily routine immediately after the treatment which makes it the most popular and the most favourite skin laser treatment.
MedRootz is a renowned name in the Dermatology department and provides the best skin treatment alternatives ranging from different kinds of facial treatments to laser treatments. With the presence of the best dermatologist in Delhi the most recent and advanced technology of Q-switch laser treatment is also present at MedRootz. The precise and agile movements of the best skin specialist in Delhi makes the whole process seamless and comfortable for the client.
MedRootz has performed several successful and satisfactory treatments, which has transformed the lives of people and given them new smiles and confidence. Every client that has found their way into the world of MedRootz can't stop but praise the best dermatologist in Green Park. It is easy to start a journey but staying consistent is a feat that not everyone can pull, but the best skin treatment clinic in Delhi has proved that staying consistent is easy when the passion is real and dynamic.