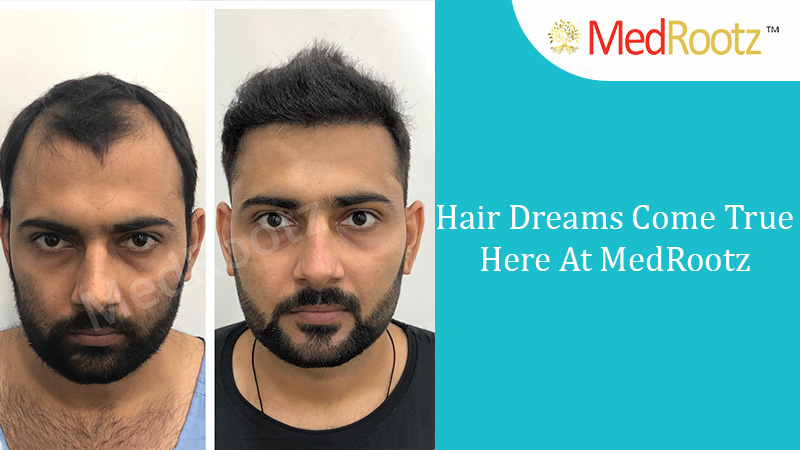 The problem of Hair Fall is nothing new, people have been suffering from this issue for millennia without seeing any ray of hope, but with the advent of technology treating this issue won't be a pipe dream anymore. MedRootz has been fulfilling the dream of having a head full of healthy and voluminous hair for years and has gained fame as the Best Hair Clinic in Delhi. The procedures followed at MedRootz by the surgeon are very effective and have given life to the hair of many clients. The best hair transplant in Delhi can be found at Medrootz, that's why it's worthy of its title as the Best Hair Clinic in Delhi.
Most people have this misconception that the lost hair can be gained back only with the help of surgical hair transplant techniques, but at MedRootz the clients can opt for non-surgical treatments as well and accomplish their dream of flaunting healthy hair. The availability of both surgical and non-surgical procedures at MedRootz has contributed a lot to their title as the Best Hair Clinic in Delhi. MedRootz has cleared the skepticism that people have been carrying for years about hair transplant methods with their various techniques that can treat baldness and partial baldness. MedRootz offer an advanced Hair Transplant range and their hair transplant is the best hair transplant in Delhi. To experience the Best Hair Transplant in Delhi, a plethora of common people, as well as celebrities, come to MedRootz from different cities and countries.
The various surgical procedures at MedRootz include Nu-Fue (Follicular Unit Extraction), FUT (Follicular Unit Transplant), Nu-Fue and FUT Combination, Body Hair Transplant, Beard, Mustache Eyebrow Reconstruction, Maximum Coverage Transplant and Growth Factor Stimulated HT with PRP. With the advanced technology, now the surgeries don't leave scars anymore and more people are positively going through them at MedRootz, the Best Hair Clinic in Delhi and enjoying the arrival of healthy hair on their heads.
Though surgical treatments don't leave scars anymore, some people are still scared of it. For such people, MedRootz has Non- Surgical Voluminous Hair treatment as well. Some methods are GFC( Growth Factor Concentrate), PRP with Microneedling, Hair Root Biostimulation(Mesotherapy) and Low-Level Laser Therapy. The presence of these efficient methods has made MedRootz the Best Hair Clinic in Delhi with the best hair transplant in Delhi as well.
MedRootz has rescued N number of people from the lair of hair loss and given them a reason to smile more with utmost confidence. Their passion to change lives has transformed many lives and MedRootz will continue to do so for years to come.